PPLive
Download PPlive : Source 1
Once run the PPlive icon

will appear in the system tray at the bottom right corner of the screen. Chinese is set to be the default language in all menus. This can be changed by clicking on the third option form the bottom (Figure 1). All menus will now be in English (Figure 2).
| | | |
| --- | --- | --- |
| | | |
| Figure 1: PPlive menus | | Figure 2: PPlive in English |
To choose a channel place the mouse cursor over channels list option in the menu (Figure 3).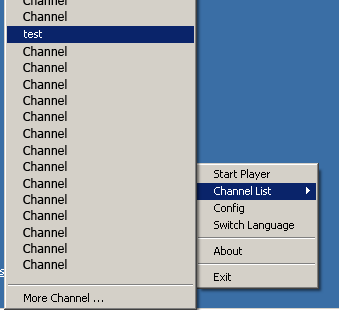 Figure 3: Choosing a channel on PPlive
A list of available channels will appear for you to choose from. PPLive will start buffering and within a minute or two Windows media player should automatically open (if its not already running) and play the stream. As explained in the P2P Streaming page it may take a few minutes before the stream is played continuously.
Another way to choose a channel is to pick from the list located on the PPLive website:
PPLive channels (Translated to English)